If you are a new business strategist in the glass industry, maybe you are having trouble sourcing the right silicone vacuum bag for your laminating machine.
Probably some questions are bothering you around, for example:
(1) What size is a translucent silicone vacuum bag do I want?
(2) Do I need E-seals or U-seals as the closure on the edges? What's the difference?
(3) How many vacuum nozzles and vacuum tubes can I get?
(4) Where can I buy PTFE(Teflon) open mesh sheet?
(5) How can I operate a set of vacuum bags for glass lamination?
So it's very important to get some practical knowledge before you intend to purchase an EVA film glass lamination vacuum bag. Using the proper silicone vacuum bag for your EVA glass processing machinery is crucial. The vacuum bag's quality should be determined by a number of parameters.
Here you'll need to spend only 5 minutes reading this post. Because this page is for those buyers who frequently procure silicone vacuum bags for a lamination furnace. And if you haven't, believe me when I suggest you should.
This is because we're going to discuss some fascinating facts regarding vacuum bags for glass lamination today. Finding out seems to be a simple process, right? But as most things in life are not as simple as they appear on the surface, let me begin by giving a quick summary of these things.
In this article, I will be telling you all you need to know about silicone vacuum bag for laminating machines and how to source the right one. But first, let's start with the basics.
What is a silicone vacuum bag?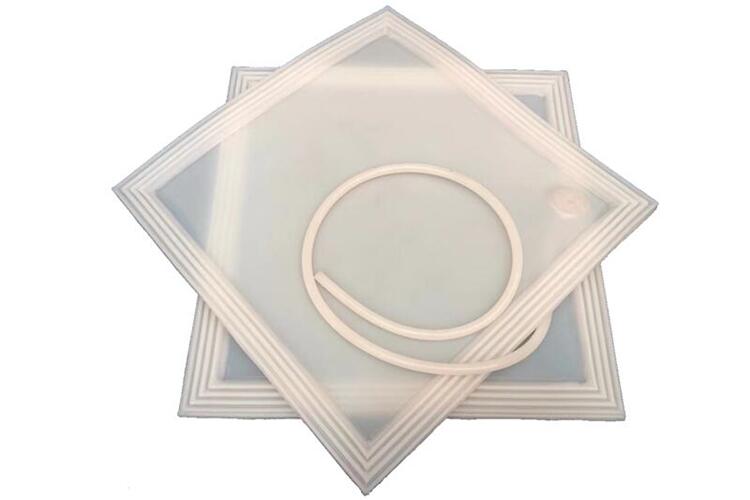 Seen from the appearance, a silicone vacuum bag is made up of 2 layers of high tear resistant silicone sheets, sealing strips, vacuum nozzles, and hoses. Vacuum tubes are the bridge linking the bag with the vacuum pump. Functionally, the whole system is used to pack the glass sheets and EVA/PVB interlayer films, and decorative inserts and create the vacuum inside for the proper laminating process.
It's no secret that silicone vacuum bags are playing a vital role in the making of laminated safety glass.
The technology behind this is fairly simple: when there's no air in the bag (or "vacuum"), there's no way for anything to get through it. But when air gets inside the bag, it pushes against all the walls and molecules inside it, causing them to move around more freely than they would without extra support from an outside force—like gravity or even just physics itself!
7 Advantages help you choose EVA film laminating bag from Deer Hunter
DH has been focusing on developing and researching silicone vacuum bags for EVA lamination process for more than 15 years. Our engineers and technicians are devoted to meeting our clients' requests. All reusable silicone vacuum bags, small and large, are designed and manufactured in our own factory in China.
(1) The maximum thickness of glass to be laminated is up to 80mm.

(2) The glass laminating bags are with high temperature resistance of up to 250°C.

(3) Light-weight design, environment friendly, long use life and reusable product.

(4) Custom-made dimensions to meet your requirements and maximum width up to 3300mm (130″).

(5) Available in different sizes depending on the type of laminating furnace used.

(6) Bags can be opened on all four sides. The top may be removed entirely for easier loading.

(7) Shipping from our factory directly with a lead time of 5-7 days.
What are silicone bags made of?
Silicone bags are usually made out of silicone rubber or silicone vinyl chloride (SVC), but they can also be made from other materials like polyurethane or polyvinyl chloride (PVC). They come in various sizes depending on the size of the job you need to be done; typically there are smaller ones that can fit in smaller spaces and larger ones that will hold larger jobs like tiles or large windows.
Selecting the right silicone rubber bags for the glass EVA lamination process can be a challenge. There are so many options out there, and it can be hard to know what works best for you. Just contact us and discuss it deeply.
What is a vacuum silicone bag used for?
A vacuum silicone bag can be used for so many things across different industries. They are primarily used for making laminated security glass. They can also be used in the food industry, architecture, engineering, and many more. Here are a few industries and what they are used for.
Architectural Industry: They are used for the creation of glass steps, safety railings, acoustic glass, anti-UV glass, and balustrades.
Automotive industry: They are used here for laminating side windows, PVB-specific windshields, sunroofs, and acoustic glass.
Composite industry: In this industry, they are used for compacting and crosslinking pre-impregnated composite plies.
Silicone Vacuum bag is an essential tool for many different processes in the plastics industry. They are used to keep solvents from evaporating and to prevent the collapse of a container when it is filled with liquids or gasses. Vacuum bags are also used in applications such as oil drilling, where they help to keep drilling fluids contained during transport.
Silicone Vacuum bagging materials are commonly used in the manufacturing industry to make vacuum bags. Vacuum bags are used to create molds for glass lamination or silicone vacuum bags for mold making. The process of vacuum bagging involves creating a mold out of glass or silicone, which is then placed inside the vacuum bag. The vacuum bags are then sealed and allowed to dry.
The use of silicone vacuum bags for the construction of molds and other forms has become increasingly common. These silicone rubber bags are used to create delicate shapes that are difficult to make with traditional materials, such as plaster or clay. They also allow you to create forms without destroying the surface of your workpiece.
What are the benefits of using this EVA glass laminating bag?
Silicone rubber vacuum bags are used to laminate both flat and curved glass and this glass can be used for different purposes. Silicone bags are perfect for laminating because they come in an array of sizes, shapes, and colors. They are easy to use and will not leave any residue on your items when you are finished. They are also waterproof, which means that you can use them to seal a whole lot of things.
Silicone bags can be also called reusable laminating vacuum bags. They are extremely durable and can be reused over and over again without losing their effectiveness. This means that you will not have to buy replacement bags often if you choose to use this type of bag.
If you're looking for a way to laminate your glass, silicone bags are one of the most effective and eco-friendly options out there. They're made from 100% eco-friendly silicone compounds, so they don't add any extra waste to the environment. They also have a smaller carbon footprint than other types of laminating materials.
In addition to these benefits, a silicone vacuum seal bag is also easy to use. They are made of reusable vacuum bags composites. This means that they are reusable silicone vacuum bags. They allow you to take off and re-use the bag over and over again. This means that you don't have to worry about buying or disposing of an expensive laminating silicone bag every time you need to laminate.
5 Steps for you to operate EVA glass lamination vacuum bags
When you are using vacuum silicone bags for safety laminated glass, you will want to make sure that you are following the SOP for the job. The right bag will ensure that your product is sealed properly, and it will also be able to handle the heat of your process.
(1) Glass sheets with insert EVA interlayer films are placed inside the lower part of the bag. Please put PTFE mesh as the bottom surface in advance, which forms a protective layer around the glass.
(2) The top of the bag is put on from above and by pressing the interlocking sealing edges an airtight connection of the two parts is produced.
(3) Once sealed, it's then placed inside the oven and vacuumed ahead of heating.
(4) Depending on the glass thickness it takes 3 to 4 hours to go through the heating cycle. Here you gotta consult with your EVA and machine supplier about the detailed process.
(5) The formed laminated glass is left to cool and taken out of the bag later on.
Or you can refer to below video about operating silicon vacuum bag in an EVA laminating machine:
10 Commonly-asked questions about heat resistant silicone blankets for laminating glass
1. Do I need E-seals or U-seals for the closure?
| | |
| --- | --- |
| | |
| E Seals | U Seals |
That's really a good question. But both E-seal and U-seal bags are available from Deer Hunter. What's the difference?
(1) If the laminated glass is not so thick, U-seal bags are easier to open. Its edges and corners are specially modified. However, you can choose either.
(2) If the laminated glass is thicker or curved, the tightness of E-seal vacuum bags is better.
2. Can you make a bag with 4M X 6M (width x length)?
End users usually give us the "width x length" firstly, which is very important. Width 4000mm is currently not available now because of our machine limit. Ideally, we can do width 3.75M. Till now, the biggest bag from our customer's records is with size 3M X 6M and 3000mm X 8000mm. That was a really big & heavy bag and the final package should be inside a wooden case.
3. Can you make thickness 1mm or 2mm vacuum bags for EVA film glass lamination?
The common thickness is 3mm. No matter it is transparent color or blue color, they are all standard grade quality. We also can make a customized bag with THK 2mm or 1mm. But we should bond high tear strength silicone sheet (DH2211) as the top layer and bottom layer.
4. How do you know if my silicone vacuum bag is bad?
If your vacuum bag isn't working properly, there are a few things that may be wrong with it. First, if the seal on one side of the bag isn't tight enough, then it won't be able to hold in all of the air it needs to keep the pressure inside. Second, if there's a hole in one corner of the bag that allows air into it—or vice versa—then you'll notice this when you try to use your machine after filling it with resin or gel. If you notice any of these things happening, then you should contact us so that we can help fix your problem!
5. Does the color make a difference on the quality?
Colors never impact on the quality. At present, two normal colors are white and blue. Actually, some customers also regard white color as translucent or transparent color. Somehow, these days more and more are picking up blue as their common color.
6. What is the distinction between External size and working area?
Usually, customers tell us a size firstly, for example, 1800mm X 3300mm. By default, we regard it as an external size; so the real working area will be smaller than 1800mm X 3300mm. But one thing we must guarantee is that your machine's space is big enough to accommodate the bag.
7. Can you provide more information about vacuum nozzles?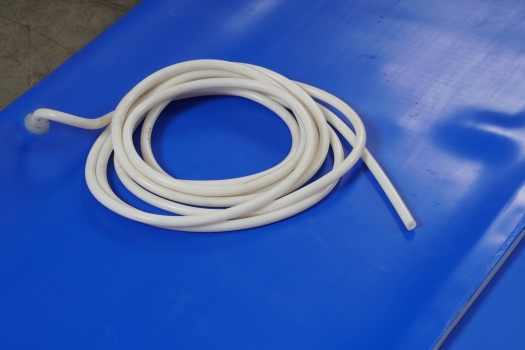 Vacuum nozzles (ports) and vacuum tubes (hoses) are important parts.
How many nozzles do you want for a bag? Only 1 port, 2 ports or more, please advise first.
A nozzle's position is usually on one of the four corners.
8. Can you provide more information about vacuum tubes?
(1)Neutral silicone soft pipe for connecting the vacuum pump to the silicone bag.
(2)Standard length 2M lone each tube, or cut to measure, like 3M, 5M, etc.
(3)Two types for your selection – "OD – 12mm & ID – 6mm" and "OD – 20mm & ID – 10mm".
(4)70%-80% of customers prefer OD-12mm and ID-6mm silicone vacuum tube.
(5)20%-30% of customers ever choose OD-20mm and ID-10mm silicone vacuum hose.
9. What is your final package?
We guarantee there will be no damage during the transport. Woven bags, carton boxes, pallets and wooden cases are our standard packing ways. Below you can see a wooden case including 4sets & 3mm X 2000mm X 3700mm Blue Silicone Vacuum Bag.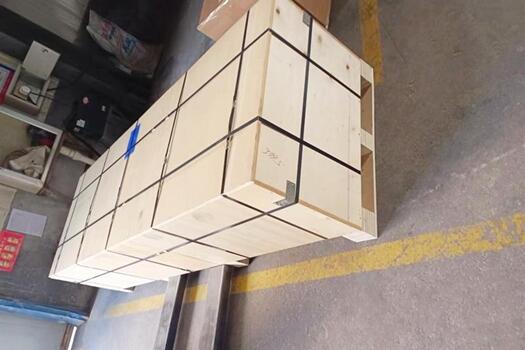 10. Where can I get PTFE mesh sheet?
We also provide more durable Teflon open mesh in stronger weft and warp which will be used as a release sheet during this bonding process, because the open mesh withstands high temperature and anti corrosive resistance, offering good release surface and excellent porosity under pressure. To some extent, it is keeping the bag last for long life. Normally mesh hose is 4mm*4mm and any size can be customized according to different machines.
Conclusion
A vacuum bag for laminated glass is a type of heat resistant silicone rubber vacuum bag that can be used to laminate glass with EVA/PVB interlayer materials. It's made from a thin membrane of silicone rubber and has vacuum hoses, which allow air to circulate throughout it easily.
Now it's your turn. By following the steps in this guide, you can easily choose a Silicone Vacuum Bag For Laminating Machine that is suitable for your glass processing easily. I hoped you enjoyed my ultimate guide about a silicone vacuum bag. And I want to hear from you.
Does this post help you solve some questions in the process of laminated glass manufacturing?
Are you considering to replace your current vacuum silicone bag with a new one from Deer Hunter?
Let me know by leaving a quick comment. Or contact our mobile/WhatsApp number +86-13823789007, or email us at sales@cndeerhunter.com